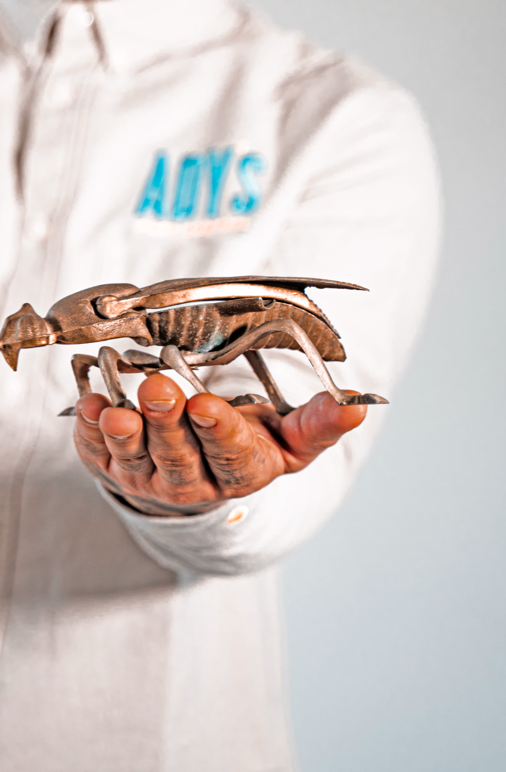 Full Service Pest Control
We're not happy until your house is 100% pest-free.
Why is pest control necessary?
Pests often carry diseases and bacteria. Therefore, it is important to get rid of them as quickly as possible. Professional pest control is the most effective way of eliminating any type of pest that invade homes or business buildings. The treatment is adapted to the type of pest and the environment.
What types of pests do you control?
We take care of the extermination of all insects that may have a negative effect on your daily life or business.
How do you fix prices for insect control treatments?
The method of insect control must be adapted to the type and structure of the building that needs to be treated. Consequently, the price of the treatment varies according to building type and is different for a flat, a house or in an industrial or office building.
How do you know when it is time to call pest control experts?
As soon as your own pest control methods no longer work, it is time to call in a professional. If you are facing a massive invasion, we recommend that you contact pest control experts right away.
The different stages of insect control
First contact: To contact us, simply fill out our online form or call us by phone. Our experts will take care of your case right away.
Inspection: During an initial visit, our experts will identify and locate your pest problem. Afterwards, they will propose a treatment adapted to your building and the type of pest.
Treatment: Depending on the treatment, our qualified team will come to your home one or more times to take care of the problem and ensure the complete elimination of pests in your building.
The different methods of insect control
We use various methods to exterminate all types of insects. Before deciding on the best method to deal with your individual problem, it is necessary to carry out an inspection in order to identify and determine the extent of the pest infestation in your building. After this inspection, the experts will decide which extermination method works best in your case: spraying, fumigation, nebulization or by applying insecticide gel.
Spraying
For this method, our experts are equipped with a sprayer filled with professional insecticides that are then sprayed into even the smallest corners of the infested area. This way, we can ensure your safety and the protection of the environment.
Fumigation
For sensitive environments, we carry out extermination by fumigation. In this method, we diffuse a gas containing professional insecticides to completely exterminate the pests in the area.
Nebulization
This technique is made possible by a specific tool that creates a fine particle mist consisting of professional liquid insecticides. This technique is mainly used in large open or closed areas such as green areas.
Insecticide gel
For crawling insects, we mainly use insecticide gel baits. We place the gel in strategic places to attract the insects. They will ingest the product and die immediately.
---